Charlysen & Kendra James
Another fresh week and time to see some more men getting punished by beautiful babes. And this week we bring you the two beautiful and sexy mistresses named Charlysen and Kendra James. And the blonde and red head plan on punishing their male sex slave today outdoors as his behavior lately leaves room for much improvement as well. And you can also see mistress Kendra in a past scene once more as she gets to play with another guy as well. Anyway, the sexy red head and the blonde had all the time in the world to play with the guy this afternoon. So let's see them going at it as we know you want to see the events in this scene too.
They had this nice little wooden device put in their big and spacious back yard of the house. And as the scene starts off, you get to see them taking the dude to it as they planned on putting him in it. Watch them securely strap him in and tying up his cock and balls as well. Then you get to watch them move to the next part as they start taking turns to tease him and his cock as much as they can today. Watch closely and see them manhandling his hard cock today as they were forcing him to have an erection and also not have one at the same time. Well have fun with this gallery and do come back next week for another superb and sexy scene everyone. We will be waiting for you right here as always!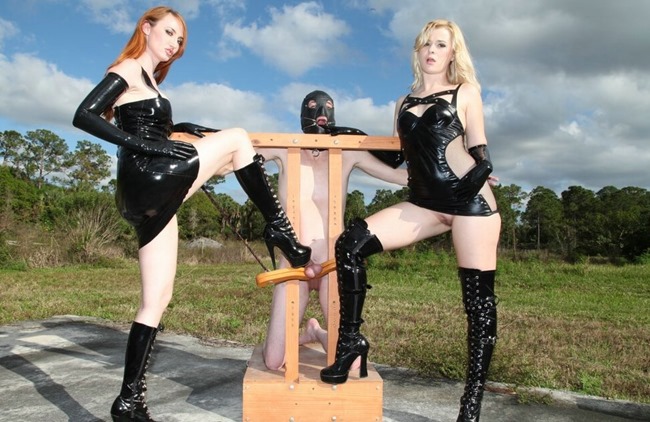 Watch these mean mistresses playing with their slave!