This week's superb and fresh clubdom scene has some more new and kinky little ladies that want to play naughty with their man toy for the afternoon. The two babes here are quite rough on this guy this afternoon but their treatment is founded as the guy was very unruly and disrespectful towards his mistresses. And as you know, that always warrants a nice punishment session to remind him who's in charge once again. Well let's just get started and see how the babes manhandled their naughty guy for the afternoon shall we?
The whole thing takes place in the back yard as this ladies wanted to make a public example of him too. They have this nice wooden rack that they always like to use to strap guys to while they give their punishment and this guy was strapped to it before you knew it. Watch as then one of the babes talks dirty to him teasing him and making his cock get rock hard. The other takes it in her hand and starts to stroke it but she jerks him off just enough to be near climax. Then she lets him sit a bit before doing it all over again. Have fun with it!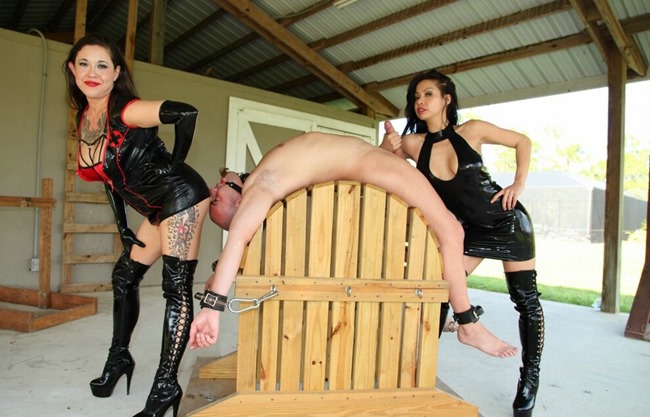 Take a look at this poor slave receiving a brutal treatment!