Whipping torture
The mistresses at clubdom caught one of the man whores they have talking back at them. And that called for some serious punishment. The poor guy found himself restrained and had his balls and cock whipped so he'd learn to behave next time one of the mistresses tells him to do something. Enjoy this guy being disciplined by his sexy mistresses today for being very naughty and talking back to them. The babes sure took their time to teach him a painful lesson and we bet that he wont forget it to soon.
The scene starts off with the Asian mistress and her lovely buddy as they tie this guy up to a pole outside. As you can see, both of them were wearing some super sexy and incredibly hot latex outfits for the occasion. And that was the trick. To get him erect, so they can whip his cock as it's all nice and hard and his balls too. Enjoy seeing them take their sweet time to punish the guy and have fun with this nice and hot gallery today. As per usual we will be seeing you guys next week with another superb and sexy update! Don't forget that you can find similar videos inside the divinebitches.org site, so check it out and see some hot dominatrix playing with their men!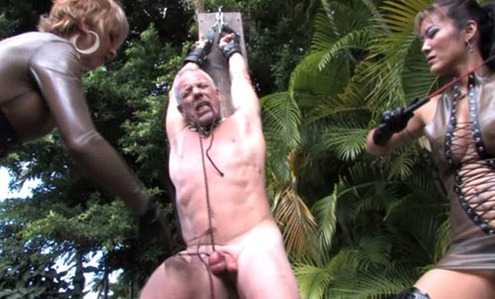 Watch these kinky mistresses whipping their slave!